In this tutorial, you will learn how to install the Surfshark VPN macOS app on your device. This app will protect your data, also will help to bypass censorship, and enjoy streaming content.



You will need a macOS device running macOS 10.12 (Sierra) or later and an active Surfshark subscription. If you don't have the subscription yet, you can get it here.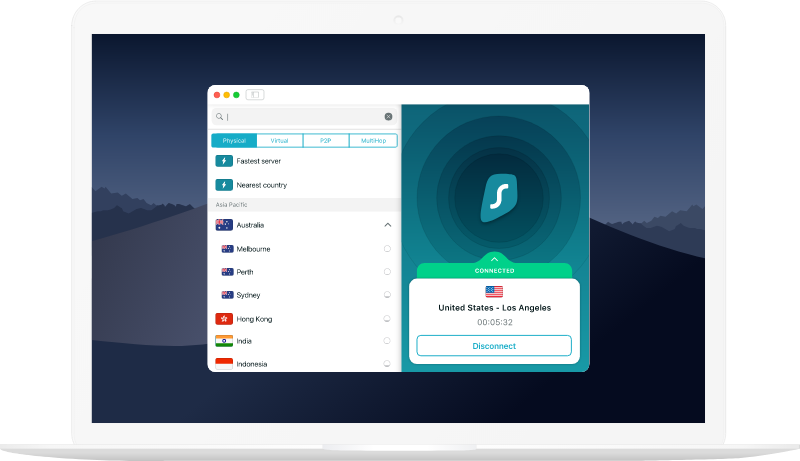 Install the app


Firstly, find the Surfshark VPN app at the App Store.





One way to do that is to open the App Store on your mac and search for Surfshark using the search bar.





Alternatively, you can follow

this link and find the Surfshark app there.


Click the GET button.





The app will be downloaded and installed automatically.





Once the installation is complete, click

Open

.





Log into the app
Open the app. At first, you will need to log in.





If you already have an active subscription,

log in

as an Existing user.





If you don't have a subscription yet, you can get it by clicking the

Create account

button.






Enter the email address you used when registering and your password. Click Log in.




Connect to the VPN
Once you log into the app, you will see the homepage of the Surfshark app. Here you can find an option to quickly connect to the VPN, also the list of locations and current connection status.
Tap Connect and the app will connect you to the fastest VPN server available.





When connecting the first time, Surfshark will need to add VPN configurations to your device. That is necessary so that Surfshark would be able to create and maintain the VPN connection on your device.



You will get a pop-up as in the picture above. Enter your Mac User password (the one you would use to unlock your mac) and choose Always Allow.




If your connection was successful, you should see the Connected status. To disconnect, click the Disconnect button.





Click the arrow located on the green bar that indicates your connection status. It will open a hidden menu with information about your VPN connection.



Here you can see your new IP address, and an option to turn on Kill Switch.




You can switch your default quick-connect server from the Fastest to the Nearest one by clicking this button, as in the picture below.



Choose the Fastest server or the Nearest country.




Choose and manage server locations


So you'd like to connect to a specific location? No worries, Surfshark has over 3200 servers in 65+ countries, and you can connect to your chosen one.


You will find the list of Surfshark locations on the left side of your Surfshark app. Use the search bar or scroll down until you find the location you need. Click on the flag icon and the app will instantly connect to that location.






If you want Surfshark to remember your favorite locations, press the star on the right side. Now this server will appear in the list of your Favorite servers.





The bubble icon next to the star indicates how loaded the Surfshark servers are in a specific location; in other words - how many people are using servers in that location.





The first bubble in this picture indicates that Surfshark servers in Germany are under a heavy load. The second bubble shows that fewer people are using servers in Japan.






You may have noticed Static and MultiHop tabs at the top of your Surfshark app.



Here's what they do:



Static - you will get the same IP address each time you connect

MultiHop - you will connect via two different VPN servers in different countries and add an extra layer of security




Manage Surfshark features and settings


Your Surfshark app is customizable, and you can fine-tune it to fit your personal preferences.

Go to the Settings page of your Surfshark app, and you will find all the necessary settings and features.



The first tab is for General settings. Here you can find:


Killswitch - this feature will reconnect you and maintain the VPN connection in case of any disruptions.

Open at Login - decide if you wish your Surfshark app to start once you log into your mac.

Choose is you wish Surfshark app to be minimized to the Dock right after starting.

Connect on open - determine to which location the app will connect automatically.

User switch - check the box if you wish to maintain the VPN connection even if the mac user switches.

Choose what your app should do on quit. Should it disconnect from the VPN and close or keep the VPN connection?




Switch to the Networks tab to manage known and unknown networks.



Here you can choose what your Surfshark app will do when connected to specific Wi-Fi networks.






In the Features tab, you will find three features.

CleanWeb - a zero-ads and zero-trackers search tool that only displays purely organic results. Learn more about it here.

Alert - get real-time alerts when your emails & passwords are at risk of being hacked. Learn how to use it here.

Search - a browsing tool that will allow you to browse the web in complete privacy with no ads, no logs, and no trackers. Learn how to use it here.




Open the Account tab. Here you can change your password, unsubscribe from the Surfshark newsletter, or extend your subscription.




Finally, open the Advanced settings tab.

Here you can see which protocol is currently used, and enable NoBorders mode that will help you connect from countries with internet restrictions.

If you wish Surfshark developers to get more insight and improve the service faster, check the Collect anonymous crash reports box.




Congratulations - you have successfully installed and configured Surfshark VPN on your macOS! As long as you're connected, your location is private, and your sensitive data is secure.

If you have any further questions, our customer success team is here to help you 24/7 over a live chat or email.


You may also be interested in