In this tutorial, you will learn how to set up the OpenVPN GUI app on your iOS device. This app is an alternative way of connecting to Surfshark servers that will come in handy if the Surfshark VPN app can not be installed on your iOSor it does not perform as expected.
You will need a device running iOS operating system and an active Surfshark subscription. If you don't have the subscription yet, you can get it here.
You will learn how to:
Get your credentials
 You will need Surfshark service credentials in order to connect to the VPN using a manual OpenVPN connection. Do not confuse these with your regular credentials - your email address and your password.
Here is how you can get your Surfshark credentials:
Go to

this page

of Surfshark website. This is the page where all details required for manual connection are stored.





You may be asked to log in before proceeding to this page. In that case, enter your email address and your password, then click

Log in

.




Scroll down to the bottom of that page. You will find Surfshark service credentials there. It is a good idea to keep this page open for now. You will need these credentials a bit later.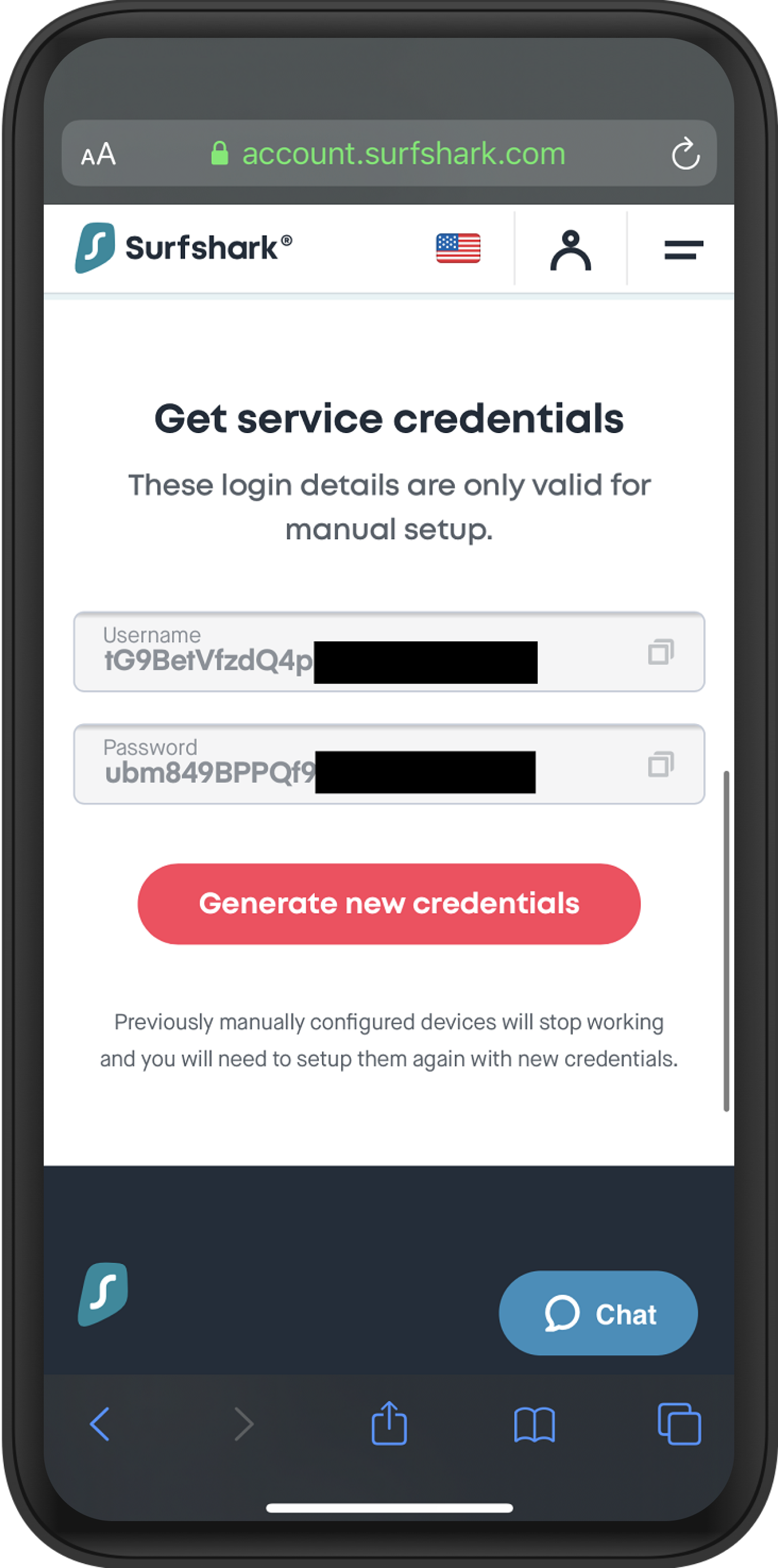 Download configuration files
Every server has a configuration file that you will need to use in order to connect to the VPN server. You can download all configuration files from the Surfshark website. It is recommended to use the Safari browser for downloading configuration files.
Go to

this page

. It's the same page where you find Surfshark service credentials.




Find the list of servers.




Download configuration files of your preferred location. If you wish to connect to Poland, download the Poland - Warsaw or Poland - Gdansk configuration file. If you prefer connecting to Finland, download the configuration file for Finland - Helsinki.

Tap on the flag icon of your chosen location. Then choose which file to download - UDP or TCP. Those are 2 different VPN protocols. We recommend the UDP protocol because usually, it is faster, but feel free to read more about different protocols and decide yourself.




Confirm this action by clicking Download.



Install the App
OpenVPN GUI app can only be downloaded from the Apple App Store. You can find it here.


Click Get. You may need to confirm the installation with your Face ID or Touch ID.

Once confirmed, the installation will begin.




The installation will finish in a few moments. You can open the app then.


Add configuration profiles
You will need to import configuration files to the OpenVPN app. Here is how you can do that:
 Go to the Files app on your iOS.


Go to Recent files or browse files and go to the Downloads folder.



You will find the newly downloaded Surfshark configuration file there. Tap on this file.






Tap on the sharing icon in the bottom-left corner.




 You will see a list of default apps where you can share the file. If you see the OpenVPN app icon there, tap on it. If the OpenVPN icon is not there, click More.




Choose OpenVPN app from the menu.




After that, the imported configuration file will appear in the OpenVPN app.




Connect to the VPN
Click Add below the imported profile.




Enter Surfshark service credentials and click ADD.

Do not confuse Surfshark service credentials with your regular credentials (email address and a password) that you use to log into the Surfshark website. If you're not sure what credentials to use, refer to this part of this guide.




Allow OpenVPN to add VPN configurations. That is necessary for OpenVPN to be able to create and manage the VPN tunnel on your device.




You will see the connection status on the home page of OpenVPN app.

You can quickly disconnect/reconnect to the VPN by moving the green switch that you see at the top of your screen.




To connect to a different location, you will need to download and import a new configuration file.

Refer to this part of this guide if you're not sure how to do that.
Congratulations - you have successfully installed and configured OpenVPN app! As long as you're connected, your location is private and your sensitive data is secure.
If you have any further questions, our customer success team is here to help you 24/7 over live chat or email.

You may also be interested in: