Chromebook is running on Chrome OS, which is basically an Android. Therefore there are two ways how you can use Surfshark on it:

a. Install our browser extension to your Chrome browser. To do that, proceed to this tutorial.

b. Install our Android application from the Google Play Store. To do that, follow the instructions below.
Go to the Google Play Store





Enter "Surfshark" into the search bar.




Choose the Surfshark VPN - Secure VPN for Privacy & security




Click the Install button at the top-right corner. The installation will start. Wait until the app is installed.




Once the app is installed, you will find it on the page of all apps on your Chromebook. Click on the Surfshark icon to launch the app.




When the app starts, you will need to log in. If you already have an account, click the EXISTING USER? LOG IN button

If you do not have an account yet, you can choose to START FREE TRIAL




Enter your credentials and click the LOG IN button




Once you're logged in, you will see the main page of the Surfshark app. Here you can see the status of VPN and click the CONNECT button. It will immediately connect you to one of our servers.



Of course, you can manually choose the location you want to be connected to. To do that, Go to the Locations tab.

In this tab, you will see all the available locations of Surfshark. If you wish to connect to a certain location, just find that location and click on it.

Let's try that with Australia - Perth location.



After you click on the location, you will be sent back to the main screen of Surfshark where you will see the connection status.




Great, now your Chromebook is successfully connected to the Surfshark server that is located in Perth, Australia!

If you want to quickly check if the Surfshark is still running, you can see that in the system tray of your Chromebook: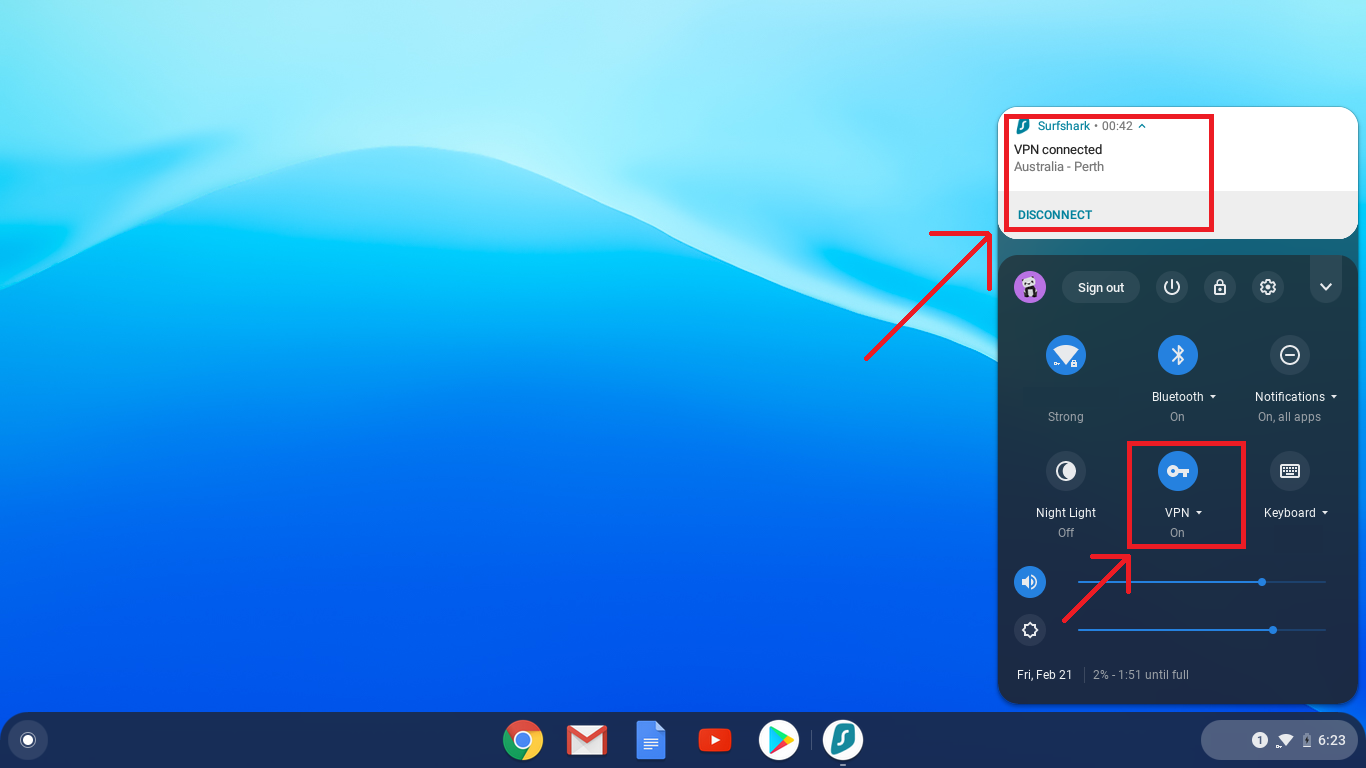 Is something is not working as expected, you can always contact our Customer Success Sharks and they will help you out!